Many businesses have a website, they even get some visitors but they don't know who they are!
There is little value in having website visitors interested in your products and services if you never get to know who they are. Sure some might call you, some might even fill out your Contact Us form. However the reality for many businesses is that they never get to know who these visitors are. Consequently there is no chance of them becoming a Sales Lead. What a missed opportunity. What a waste, particularly if you are paying to get the website visitors.
So how can you find out who is visting your website right now? Read on….

Well there are a number of solutions but the one we would like to bring to your attention is called Live Chat.
In your travels around the internet you may well have come across this. Typicall you will see an image something like this.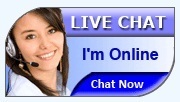 This image is sometimes statically displayed on a website and other times will appear after a short time.
If you are struggling to find what you are looking for on the website or you need more explanation the you can click on this image and start a real-time online chat with the website owner.
Now this is really useful for the vistor as they can get instant answers to questions perhaps not provided by the website content.
But here is the Lead Generation opportunity for the website owner.
Guess what! You can ask the visitor to give you their name and email address before they can utlise the Live Chat facility.
So now you have:-
The name of your website visitor.
Their email address. (For Email Marketing!)
An immediate opportunity to engage with the visitor.
Some applications even allow an instant voice call.
A Qualified Hot Sales Lead on Your Site Now!
So what else can you do with Live Chat?
Discover what clients needs are
Point them to places of interest on the website
Give instant help on your products and services
Send a transcript of the Chat
The list goes on…………….
Ok I hear you say but how much does this Live Chat cost? Sure you can buy it but what if I also told you you can get it for FREE!
You can by clicking on this banner link.

So there you are, you now know How To Turn Web Visitors into Sales Leads (For FREE!)
P.S. For those of you who haven't got the time or inclination to respond to Chat requests. you can even outsource this!

If you like this post please click the Facebook Like Button.